"The pace of investment has slowed, but we haven't. We're looking for companies
Last August marked a turning point in Playtika's history. The company released its second-quarter 2022 earnings report, saying for the first time that casual gaming has become its main growth engine – that is, 53% of its revenue comes from casual games. These are lightweight games with simple rules and short rounds, such as "Candy Crush" or "Angry Birds". The change is at odds with the company's image: Over the years, Playtika has mostly been known as a producer of social casino games. These are games of chance, such as poker, bingo, and slot machines, but don't require betting real money.
This transformation did not happen overnight. Through a series of business opportunities, Playtika has acquired casual game makers and helped them develop their games. Playtika's chief strategy officer, Eric Rapps, is one of those responsible for transforming the Israeli company's gaming portfolio.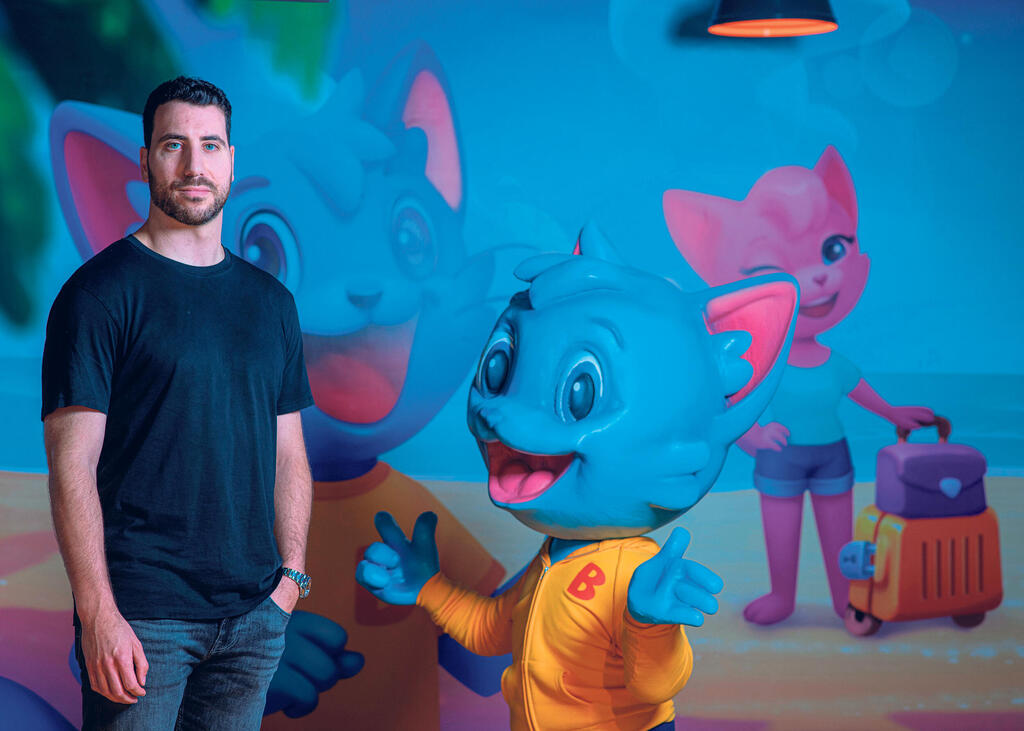 "We expanded into casual gaming for two reasons," he explained in an interview with Calcalist. "First, we have reached the pinnacle of strength in the social casino space. We already have a 35% share of the global social casino market. Second, we don't think our expertise is necessarily valid only for this genre."
Playtika was founded in 2010 by Robert Antokol and Uri Shahak, who left the company about a decade ago. Just a year later, it was acquired by the Caesars casino chain for $160 million. Five years later, the company has found a new buyer: a consortium of Chinese companies. Now it's going to change hands again: In June, the company will reportedly be sold to Joffre Capital investment fund for $8.5 billion.
"After Caesars, the new owners empowered us to expand. We thought we could apply our experience in the social casino space to casual gaming," Rapps noted. Playtika's first acquisition in the leisure space was another Israeli company, Jelly Button, for tens of millions of dollars. "When we acquired Jelly Button, we dipped our toes in the water. It was a small deal. The thinking was, 'Well, if we fail, we're not going to lose that much money. It's not going to be profound Impact. If we are successful, we will prove our hypothesis. Then we can go on a more frequent buying frenzy."
So you've actually achieved your profitability in the Jelly Button game?
"'Monetization' (earning revenue from games) is the easiest buzzword to use. But it doesn't necessarily represent everything we're good at. We focus on game operations. Games have several stages. First, in development, Playtika Not the best in the world," admits Rapps.
"After the game goes live, it's the game operation stage. In this regard, I think we are the best in the world. Game operation involves not only monetization and sales management, but also managing the game economy, managing customer relationships, and customer service. These are our The principles that were instilled in Jelly Button after the acquisition of Jelly Button. When we saw it work, we became more confident when trying to acquire the next company we acquired. Once we saw that our formula was working, we said, 'Well, let's acquire as many companies as possible to make this formula work.'"
You have now invested in an NFT game. Why does the gaming industry love blockchain so much?
"I'll give my opinion on why the industry as a whole supports it, but I don't necessarily support it myself. There's a part of the industry that's better suited for hardcore gamers who are interested in owning a gaming asset. "This asset is something I've accumulated And the real value of the establishment, I should have it. " If you know anything about blockchain history, that's how Ethereum started. Its creator played World of Warcraft. He played the game for hours to get a certain reward, and then the game creator overnight Changed the value of the reward. He was outraged by this one-sided change, which prompted him to build the Ethereum blockchain.
"Another reason for this change has to do with game mechanics based on this technology. For example, until today, there was no way you could make digital collectibles and digitally verify their uniqueness. These are things that touch the core of our business. Our games have internal collectibles. The ability to embed them is very exciting for us."
The goal is to get people to play games to earn money (Play-to-Earn)? In the end, someone will lose money.
"We don't believe in the Play-to-Earn model. We don't support it, we don't think it's the right business model because it's about speculation and profit at its core. Those two things are the opposite of a product that can keep players in the long term — which is That's what we focus on. We have 10-12 year old games. Our goal is to turn them into 30 year old games. The only way to do that is to build a good entertainment experience. If the goal of the game is to make money , guess what? People won't make money from it in 30 years. Hardly any investor can do that.
"We don't focus on that. Assuming this technology becomes dominant, we are a technology company and we cannot be left behind. At the same time, this technology makes it possible to create multiple forms of entertainment. In some cases, it is also seen as more modern."
How does this relate to the fact that using a crypto wallet is complicated for most people today? It is not accessible.
"You're right. These are the issues we focus on solving. Everything we do is done from the consumer's perspective. Opening wallets and transferring funds is a pain. For our user base ( This is not easy for mainly ordinary American women. We can implement blockchain technology and disguise it to enrich the user experience. We will use our own judgment to judge the best gaming experience and if necessary Sacrificing options that are important to crypto natives."
Why is blockchain actually critical to creating collectibles?
"It's not. The short answer is that we have the option of creating a centralized collective enterprise. I think what we're trying to convey is that this is a new, extremely powerful technology and there's a lot of adoption in the tech community. If we To be a leader in mobile gaming, we have to be a leader in technology and how it affects mobile gaming. When the mobile industry is hurting, it's really hard for many successful console and PC companies to turn to it. Why? Because it is A different format, it's a different space on your screen, a different gaming experience.
"Ignoring blockchain is like being in the PC space and ignoring what's going on in the mobile space. It's a really stupid decision, isn't it? You have to get exposure there. We're not going to change course and turn Playtika into a family Blockchain company. Under no circumstances will we abandon our philosophy and principles that are at the heart of the game. All we do is experiment with new technology so that we can become experts in it."
How would you describe Playtika's investment profile?
"It's not an open check, but it's not defined as $5 million or $10 million per investment. We're less focused on scale and stage. We're interested in reaching new and interesting areas in the world of gaming and interactive entertainment. So if you Looking at all the companies we've invested in so far, they're all in different sub-sectors of the gaming industry, and we think they're either disrupting the status quo or represent a huge opportunity. For us, it's a learning opportunity. As I will The acquisition of Jelly Button is described as tiptoeing, not firsthand – we don't buy things beyond what we understand, but invest in these companies where you get a seat on the board and give us the operational side The experts. There is a lot of value in this.
"Our goal is to make Playtika synonymous with gaming, especially in Israel. The reality is that the gaming industry is developing in a very interesting way. There are different forms of gaming, the technology used to operate the game. Our goal is to Knowing all of this so we can be the number one player in the West and even Israel. That's why we diversify our portfolio."
As an investor, have you noticed a decrease in the scope and speed of investment in Israeli startups?
"Valuations have come down. Other investors may have slowed down a bit, but we won't. It's because we're a company that's willing to buy or invest in troubled companies because we're a very successful game. Operators. That's a very big difference between us and other companies. Most buyers buy small companies and keep them independent, even if the game itself doesn't grow. This is because most companies can't improve the operation of the game the way we can. That's why we haven't seen a reduction or reduction in the number of our business opportunities.
"I think what's unique about Playtika is that when you look at the mix of employees, most of them are not gamers. We have great technologists, analysts and AI engineers. Why do I say that? Because our The employees reflect the entire Israeli high-tech industry. If someone reads this interview and says, "These are just games, I'm not interested in games, so I won't work at Playtika" – they're making a mistake.
"In recent years, we have recruited a lot of 8,200 graduates, who usually go into the field of networking. Suddenly, analysts come to Playtika and are surprised by the amount of data available here to perform big data analysis. Playtika provides the technology ecosystem in Israel It's a very diverse product, and it's relevant to a lot of industries that people don't normally associate with the gaming industry."
live in Tel Aviv

grew up in Montreal, Canada

He founded an online gambling startup that was acquired by Caesars, the former owner of Playtika

After selling the company to Chinese businessman Shi Yuzhou in 2016, he moved to Israel to work