Meet Jesus Through Mother Teresa
In response to the call of Christ, Mother Teresa completely denied herself. She cared about the poor since she was a child. Jesus Christ is the center of her life, therefore, she lives a Christ-centered lifestyle. Mother Teresa's hermeneutic interpretation of scriptures also changed the way she treated each suffering person.
Mother Teresa's Christ-centered view
personal and intimacy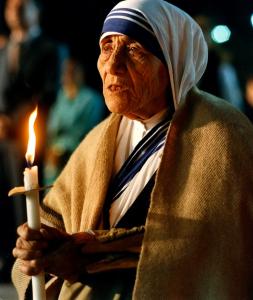 Mother Teresa clearly understood Jesus through prayer and devotion. Her closeness to Christ enabled her to see His humanity in the poor.
The humble Jesus portrayed in the Gospels inspired Mother Teresa to follow his example; her life was a living prayer. Mother Teresa often preached that a person can hear God's voice clearly in silence; therefore, she would isolate herself, alone in God's presence—"It is not what we say that counts, but what God says to us and through What We Say (p. 48)."
Mother Teresa emphasized the following prayer, "Without a praying soul, direct apostolic work is impossible. We must be conscious of our oneness with Christ, as he was conscious of his oneness with his Father. Only when Our activity is truly apostolic when we allow him to work in us and through us with his power, his desire, and his love" (p. 47). Like Jesus, Mother Teresa chose servanthood. According to her, service is embracing and following Christ the Servant. Jesus' words in Luke 22:27 encouraged her to be the servant she had become. She often preaches that people are not called to be successful, but to be faithful.
communion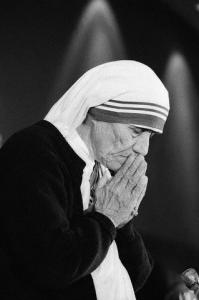 Mother Teresa put a lot of emphasis on attending Mass in the morning. Her mystical love made her see Jesus and the poor through the Eucharist. In addition to the common vows of poverty, chastity and obedience sworn by most orders in the Catholic Church, the Missionaries of Charity take a fourth vow, liberty and wholehearted service to the poorest of the poor, as a way of emphasizing way of Jesus' love. Mother Teresa taught the Missionaries of Charity that their greatest service to the poor was that it was through them that Christ touched the broken body of the hungry and needy.
"Because I'm hungry, you give me food, I'm thirsty, you give me drink, a stranger, you welcome me, naked, you clothe me, sick, you take care of me, in prison, you come to visit Me." (Matthew 25:35-36)
For Mother Teresa, the broken Eucharist on the altar represented the broken bodies of the street poor.
instrumental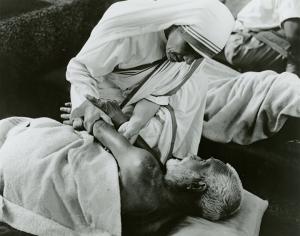 Mother Teresa's favorite verse is Paul's declaration in Galatians 2:20, "But I live, it is no longer I, but Christ is in me"
She often said that she was unimportant, that the work she was doing was the Lord's work, and it should always be; that everyone is just an instrument in the hands of the Lord – we finish our mission on this earth, and then we leave.
In a very spiritual way, Mother Teresa detached from the material world and obeyed the will of God. "We must become holy, not because we want to feel holy, but because Christ must be able to fully live His life in us," she said. She also taught missionaries of the Sisters of Charity that whatever work they do for Christ should not be done out of pride.
Mother Teresa never paid much attention to the donations reaching the Missionaries of Charity centre, her main concern was the poor in the streets, who were the main concern of the Missionaries of Charity Sisters. Mark 12:43-44 is one of the Bible verses that Mother Teresa thought it spoke directly to them, as a command to care for the poor—
"Jesus called his disciples and said to them, "Amen, I tell you, this poor widow gave more than all the others. Because they all contributed their remaining wealth, but she contributed everything she had, all her livelihood because of poverty. "
personal experience of the poor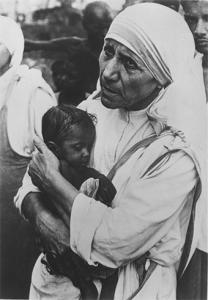 Mother Teresa was deeply troubled by the injustices faced by the poor. It is for this reason that the first center she established was for the dying. She wants to help these people die in peace and with dignity. Mother Teresa wants every homeless person to experience divine and human love in their last hours on earth so they can realize that they too are children of God as Jesus said in the parable Loved and worthy of being cared for, like the Good Samaritan (Luke 10:29-37),
"But he wanted to justify himself, and he said to Jesus, "Who is my neighbor? Jesus replied, "A man was taken captive by robbers as he was going down from Jerusalem to Jericho. They stripped him, beat him, and left him half dead. A priest happened to be going that way. , saw him, and passed on the opposite side. Similarly, a Levite came there, saw him, and passed on the opposite side. But a Samaritan traveler who was passing by him saw him and was moved He approached the victim, poured oil and wine over his wounds, and bound them up. Then he picked him up in his own cattle, and took him to an inn to nurse him. On the next day, he took out two silver coins and gave them to The shopkeeper said: "Take care of him. If you spend more than I gave you, I will give you back on the way back." Of these three people, which one do you think is the neighbor who was robbed?" He replied: "Have mercy on him people." Jesus said to him, "Go and do likewise."
In conclusion, Mother Teresa's spirituality was Christ-centered—her life centered on Christ and expressed in her actions through devotion and prayer. She has always been compassionate, patient, and humble through criticism, temptation, and trials. Her main concern is that the poor be treated with dignity. Mother Teresa's faith in Christ contributed to her efforts to make the world a better place.
!function (f, b, e, v, n, t, s) {
if (f.fbq) return; n = f.fbq = function () {
n.callMethod ? n.callMethod.apply(n, arguments) : n.queue.push(arguments)
};
if (!f._fbq) f._fbq = n; n.push = n; n.loaded = !0; n.version = '2.0';
n.queue = []; t = b.createElement(e); t.async = !0;
t.src = v; s = b.getElementsByTagName(e)[0];
s.parentNode.insertBefore(t, s)
}(window, document, 'script', 'https://connect.facebook.net/en_US/fbevents.js');
fbq('init', '1510929182549648');
fbq('track', 'PageView', { fbc: ", fbp: "}, { eventID: '63895bbee7580' });