How to make money from the upcoming Brookfield spinoff
Brookfield Asset Management (NYSE: BAM) will spin off its asset management business (after BAM we will call it Manager) by the end of the year.Since I published my last post about BAM's stock price fell further after the spinoff, after Brookfield Asset Management issued a management information circular and proxy statement for its upcoming special shareholder meeting on Nov. 9. While the third quarter earnings report will bring more data, the new information is enough to allow us to do our final review before the BAM shareholder vote. Since a spinoff is almost certain, I wouldn't consider an alternative.
In order to make this post logically inclusive, I cannot avoid duplicating my previous post and apologize for it. I will also assume that my readers are familiar with BAM and will not be reviewing the company. If not – please read my previous publications or company descriptions elsewhere to be comfortable with the content.
what we know
BAM shareholders and Brookfield Reinsurance (

NYSE: BAMR

) Unitholders will receive one Manager share for every 4 BAM/BAMR shares. After the transaction, the Canadian company manager will be known as Brookfield Asset Management and trade as BAM on the NYSE/TSX. The rest will be called Brookfield Corporation, trading under the BN symbol.
Only 25% of the management company will be spun off to shareholders, while Brookfield Corporation will retain 75%. Spin-offs are tax-free, at least in the U.S. and Canada.
The administrator will include all asset management operations and minimum capital. Its cash flow consists almost entirely (at least initially) of fee-related earnings (FRE).
All other assets and liabilities, including debt, preferred stock and deferred tax liabilities, will remain with Brookfield Corporation.
Withdrawals from existing private equity funds will belong to Brookfield Corporation. For future private funds, two-thirds of the spread will belong to the manager and one-third to BN.
90% of the management company's earnings will be paid in the form of dividends. BN's first dividend will reduce (compared to today's BAM) the amount payable by the manager, i.e. if a shareholder decides to keep BN and the manager on the split, she adds up from BN and the manager approximately equal to what she receives from BAM today quarterly dividend. After the first dividend, each company will declare dividends independently.
Dividend Policy and Manager's Valuation
On June 30, 2022, BAM's diluted shares were 1.638 billion shares, including BAMR shares exchangeable for BAM. As a result, Brookfield will split 1638/4 of Manager's shares and retain 3*1638/4 of Manager's shares (in millions). As a result, the total number of diluted shares of the manager will also be 1.638 billion.
During the Investor Day, Bruce Flatt presented the following slideshow with the FRE of TTM available for dividends: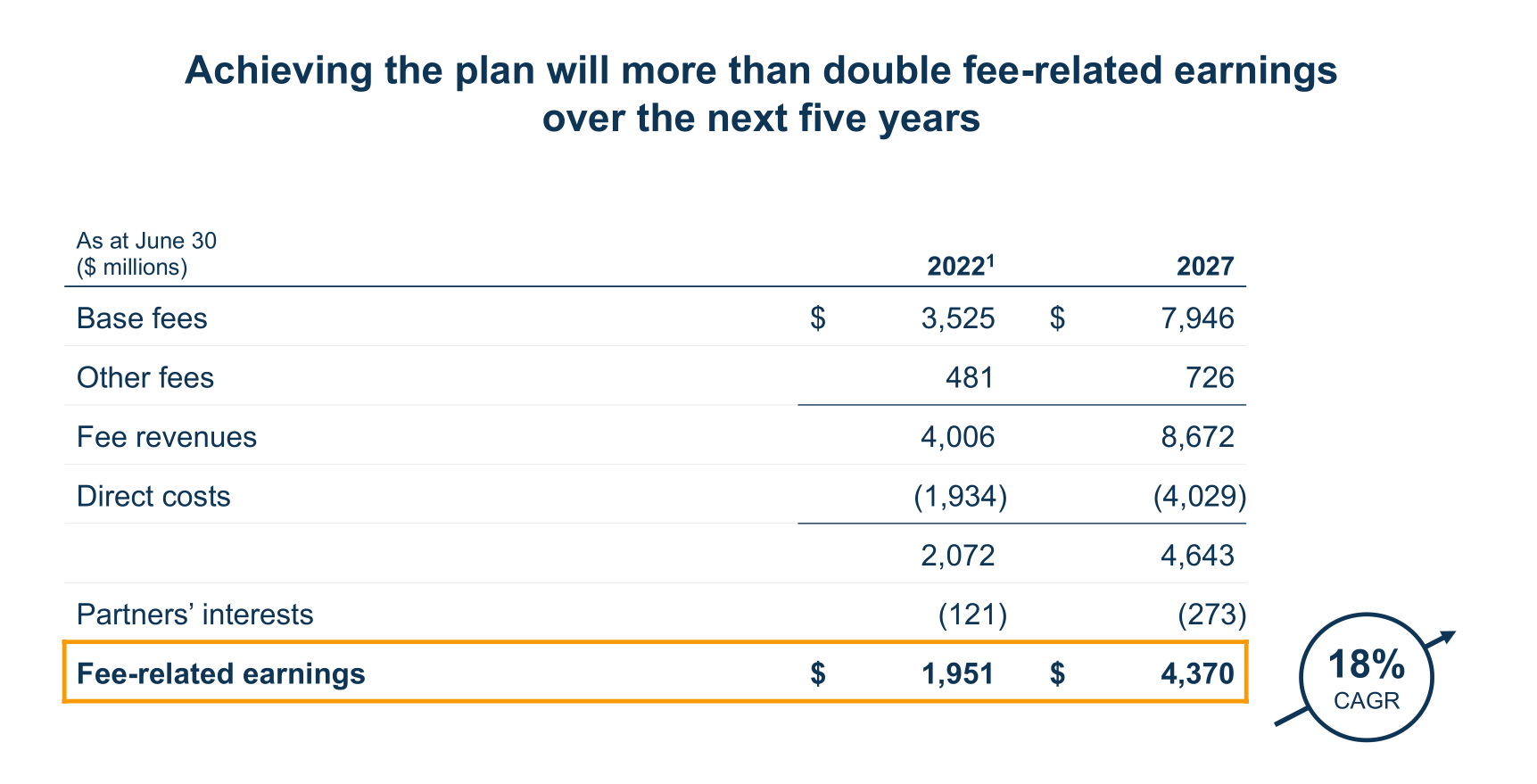 The first manager's annualized dividend can be calculated using simple math: 1951*90%/1638=$1.07 (this number is expected to change after the third quarter). The current BAM annual dividend is $0.56, which allows us to estimate the first BN annualized dividend: 0.56-1.07/4 ~ $0.29.
Mr. Flatt expects FRE to grow 18% annually, which means its dividend will also grow 18%. This number, while aggressive, is in line with the FRE growth that BAM has achieved over the past 10 years (see my previous post for details).
Since 90% of earnings will be paid in dividends, I would expect managers to trade based on yield. BAM's existing subsidiaries, Brookfield Infrastructure (BIP) (BIPC) and Brookfield Renewable (BEP) (BEPC), pay nearly all of their cash flow in distributions, and it's instructive to examine their yields today:

Companies (BIPC and BEPC) have consistently traded lower yields than partnerships. BIPC is based on the best combination of its company status, growth rate, and payout ratio. Faster growing and unleveraged managers should trade at least as much as BIPC. Also note that during the stock market rout, all four companies typically trade lower than they are today. In my previous post, I estimated that the manager should be trading at a 3-4% yield, which equates to a trading range of around $27-36. I also stated that managers could end up trading at yields below 3% (BIPC was trading at exactly 3% at the time of this publication). FYI: BIP (which has a multi-year track record, while BIPC doesn't) has yielded 2.8-5.3% over the past 10 years.
Let's imagine that the management company will actually increase dividends at the rate of about 18% per year as predicted by Mr. Flat, and these dividends will come from a stable FRE that will have no debt on its balance sheet and no capital expenditures. Also, let's assume that the management company will build its track record in a few years without exhausting its growth potential. Would you be particularly surprised to see it trading at a 2.5% yield?
Let's fantasize further that Brookfield management will regularly use the management company's high-flying stock as cheap currency to acquire other investment management companies with relevant profiles around the world to further accelerate growth. That vision, still uncertain and distant, but not impossible, makes the spinoff very compelling.
There are strong objections to this line of thinking. If you consider Blackstone (BX), an asset-light alternative asset manager akin to a management company, it currently trades at a 6% yield despite growing its dividend at about 20% a year for the past 5 years. But first of all, alternative managers are not popular right now, and usually BX trades with lower yields. Second, BX dividends from carry and FRE are very volatile as follows: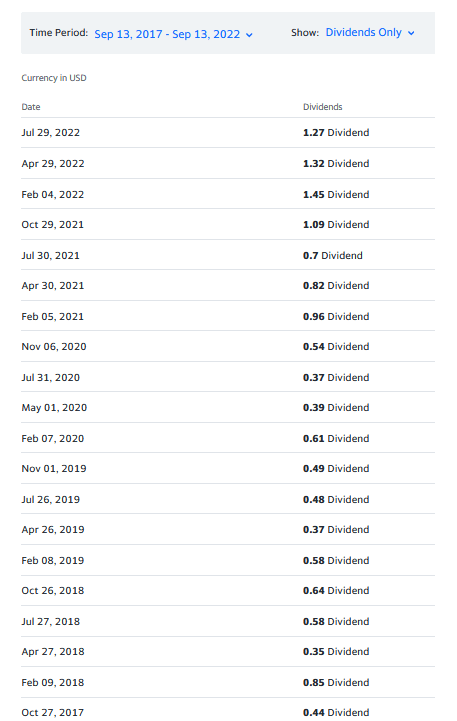 Unpredictable dividends are not that valuable. In the case of BX, the reason is easy to understand. Spreads are highly vulnerable to market slumps because private equity firms cannot execute enough exits at a profit. Dividends can even fall in a bad year if the spreads input is comparable to the FRE input. This is unacceptable for income-dependent investors. The management company has no spread at all in the first few years, which hopefully will make the quarterly dividend more stable, but still variable — the management company intends to pay a dividend of 90% of the previous quarter's distributable earnings.
Since we haven't seen all of these financial mechanisms in action, I'll stick to my current valuation of the manager in the $27-36 range with possible upside. Two important caveats: This range may be achieved after some initial stabilization period, and is dependent on the actual dividend declared (we are only based on our preliminary estimates).
Brookfield and its valuation
Manager's successful growth would not have been possible without the equally successful Brookfield Corporation. BN's funds will be used to increase the management company's assets under management ("AUM") in a sensible manner. That is, BN will provide seed funding for different investment vehicles, thereby attracting other people's funds to achieve leverage. These tools will include various private funds, public companies such as BIP or BEP, and most importantly, BAMR. Insurance will be at the heart of AUM's growth. Apart from owning 75% of the management company and the spin-off arbitrage, BN will enter into agreements with the management company focusing on the best alignment of interests and mutual benefit. The same people, helmed by Bruce Flatt, will lead both companies, and they will continue to make substantial investments in both, as shown in the table below, copied from the management circular: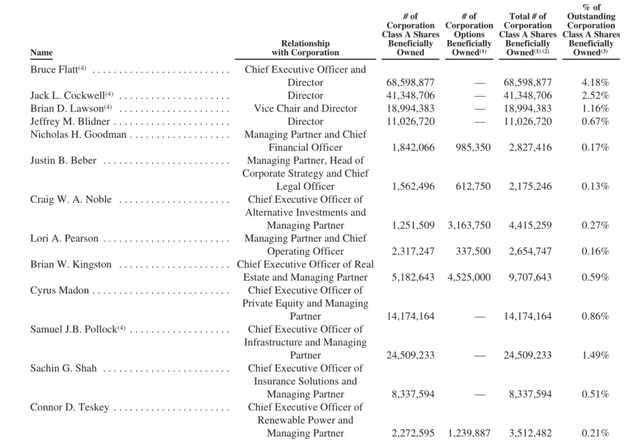 In addition to the persons in the table, Howard Marks (current director) is a substantial owner and beneficially owns 1,019,715 Class A shares.
The growing influence of Sachin Shah (currently chief investment officer of BAM and chief executive officer of BAMR, formerly head of BEP), combined with the age gap between him and other senior officials, made him the leader to eventually replace Bruce Flatt. candidate.
Now back to valuation: BN will consist of three components: 75% of managers (which we have assessed), holding and investment capital. I've written many times that carry is not that important, and valued it at ~$5B (or ~$3 per share) in one of my earlier posts. This figure is conveniently close to the current unrealized net interest margin, although I arrived at it from different considerations. The unbundling of future arbitrage becomes less important for any company. To complete the picture, we only need to estimate the invested capital.
We can use the Q2 supplemental data for this: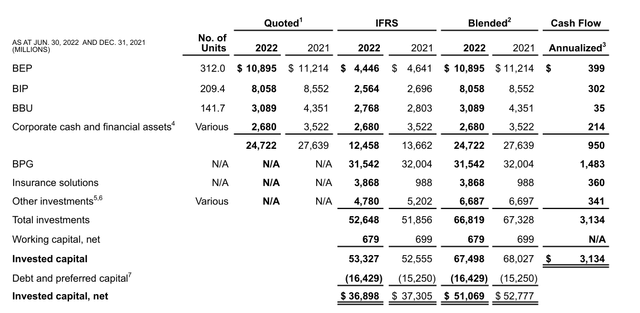 Since BEP, BIP and Brookfield Business (BBU) are publicly traded, the "Mixed" column is a reasonable but fluctuating estimate of invested capital, however, we need to adjust for the former Brookfield Property Group (BPG) (BPY). BPY has consistently traded below its IFRS value, and things have gotten worse since the pandemic. My rough estimate is that BPG is 50-75% of its IFRS value or about $16-24B. Total invested capital equals ~$36-44B (instead of the indicated ~$51B), or $22-27 per share.
Our estimates of invested capital and spreads are significantly lower than Brookfield's estimates.
Now we can estimate the value of BN per share: 0.75*(27-36)+3+(22-27) ~$45-57.
Accordingly, BAM per share should be worth around $52-$66 today.
in conclusion
For convenience, here are our estimates of the fair value per share:
Today's BAM: $52-66, assuming a spin-off will occur
Manager (new BAM): $27-36
Brookfield Company ('BN'): $45-57
We recommend the following two-step strategy:
1. Investors should increase their holdings of BAM shares immediately. While some other alternative asset managers are also trading at a discount, Brookfield is in a better position to unlock value due to the impending spinoff. Nothing is certain in the stock market, another dip would negatively affect BAM prices, but the chances are high.
2. After the spin-off (or even before the spin-off using the NYSE's BAM.WI ticker or TSX's NBAM ticker), investors should reallocate funds between the management company and BN, placing their The quoted transaction prices are compared with our estimates of their fair value.
The third quarter results may or may not result in adjustments, and I may respond with a brief post if those adjustments are material to our estimates and strategy.
One last unrelated comment: SA and some of my readers suggested that I start the Marketplace service. I'm not sure if I want it, but would be interested in your opinion on this. Thanks!